ITM Group is present on the world market with projects developed in different areas of the planet, particularly in Europe, the Middle East, Asia, the United States and Latin America.
Among our customers you can find some industrial and production companies of world level, including important international companies in the energy and transport sector.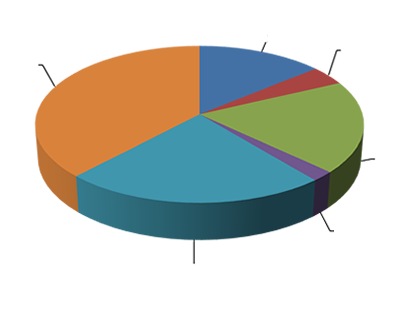 The graph shows as a percentage the areas of the world where we distribute our products.
Main international customers:
| | | | |
| --- | --- | --- | --- |
| ABB LUMMUS | HOLLAND | KELLOGG | U.K. – USA |
| AGIP | ITALY | NESTE OY | FINLAND |
| ARAMCO | SAUDIARABIA | NIIGATA | JAPAN |
| BADGER | HOLLAND | NORSK-HYDRO | NORWAY |
| BARIVEN | HOLLAND | NUOVO PIGNONE | ITALY |
| BECHTEL | U.K. – USA | PHILLIPS PETROLEUM CO. | NORWAY |
| BEIJING GAS TRANSMISSION COMPANY | CHINA | RELIANCE IND.LTD. | INDIA |
| BRITISH GAS | U.K. | SADELMI | ITALY |
| BROWN & ROOT | U.S.A. | KOREA GAS CO. | KOREA |
| CHINA NUCLEAR ENERGY I NDUSTRY CORP. | CHINA | KLWAIT NATIONAL PETROLEUM CO. | KUWAIT |
| CHINESE PETROLEUM CORP. | CHINA | KVAERNER | NORWAY |
| CHIYODA | JAPAN | LARSEN & TOUBRO LTD. | INDIA |
| DAELIM ENG | KOREA | LINDE | GERMANY |
| DANSK OIL NATURAL GAS | DENMARK | LURGI | GERMANY |
| DEUTSCHE BABCOCK | GERMANY | MANNESMANN ANLAGENBAU | GERMANY |
| E.I.L. | INDIA | MOBIL OIL | U.K. – USA |
| ENICHEM ANIC | ITALY | N.I.O.C. | IRAN |
| ESSAR OIL | EGYPT | SAIPEM | ITALY |
| EXXON | U.S.A. | SAUDI TECHINT | SAUDI ARABIA |
| FINA | BELGIUM | SHELL | U.S.A. |
| FLUOR DANIEL | U.S.A. | SNAM | ITALY |
| FOSTER WHEELER | U.S.A. – U.K. – ITALY | SONATRACH | ALGERIA |
| GAS DE FRANCE | FRANCE | STATOIL | NORWAY |
| HIYUNDAI | KOREA | TAMOIL ITALIANA | ITALY |
| IGDAS | TURKEY | TECHNIP | FRANCE |
| ITALIMPIANTI | ITALY | TECHNIPETROL | ITALY |
| J.G.C. | JAPAN | TECNICAL REUNIDAS | SPAIN |
| JOHN BROWN | U.K. | TECNIMONT S.p.A | ITALY |
| KAWASAKY | JAPAN | TEXACO | U.S.A. |